Who We Are
UniNet is a worldwide Original Equipment Manufacturer with over 25 years of experience in the imaging industry.
Our product capabilities and technologies have evolved throughout the years, allowing us to leverage our experience, market leadership, and R&D capabilities to serve our customers. We are continually committed to offering the highest value products and solutions, flexible full color, and multi-use solutions with durable and reliable results.
With sales, service and distribution networks on every continent, we have earned a global reputation for high-quality products and stellar customer service delivering quality worldwide.
We are a technology-driven company inspired and committed to inventing and reinventing environmentally conscious, transformative technologies that have the power to unlock new opportunities for businesses and to reduce traditional barriers. At UniNet, we choose to raise the bar by creating solutions that have a positive, lasting and sustainable global impact.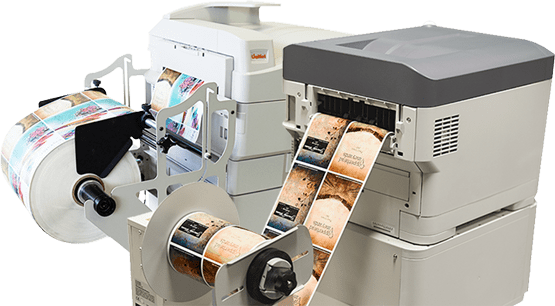 About Our Products
With the iColor® 700 and iColor® 900 series of Toner-based Digital Label Presses, it's never been easier to go digital! Whether you are a flexographic printer looking to enter the short run market to augment your business, or a manufacturer looking to produce your own labels in house, UniNet has the solution for you! Our Digital Presses have the ability to print on pre die-cut media (matrix on or matrix removed), thanks to sensors that scan both the front and back of your media. Our patented auto registration system keeps labels completely aligned from beginning to end. Consistent Delta-E ensures the last label on the run will look as great as the first. The iColor® 700 and iColor® 900 Digital Label Presses are both capable of speeds up to 30ft / min and can print on the largest variety of media in the industry on up to on up to 12.9" media due to low temperature fusing LED technology. Add our variable data option to print specific serial numbers, bar codes, lot codes and more within the same run and the optional fluorescent white kit to print in brilliant white BEHIND color when printing on dark or clear media substrates. It's rare to find a product in any market that doesn't require a label these days. UniNet's line of Digital Label presses are perfect for an array of industries such as: beer, wine, beverage, food, coffee, cosmetics, chemicals, pharmaceuticals, private labels and much more! Avoid costly plate charges, shipping delays and order minimums – print on demand and in house at a moment's notice.
Pair with either an 8.5" and a 13" finishing solution, so you can laminate and cut out any shape and size desired - highly recommended for users printing on varying shapes and sizes, as well as full bleed labels.
In addition to the iColor 700 and 900, consider the entry level iColor® 200 Digital Label Press, featuring one cartridge inkjet technology. No more clogging – our proprietary ink cartridge has its own print head so every time you replace the cartridge, it comes with a fresh head as well. Print on pre dicut media, or pair with our smaller LF200 finisher to produce different shapes and sizes.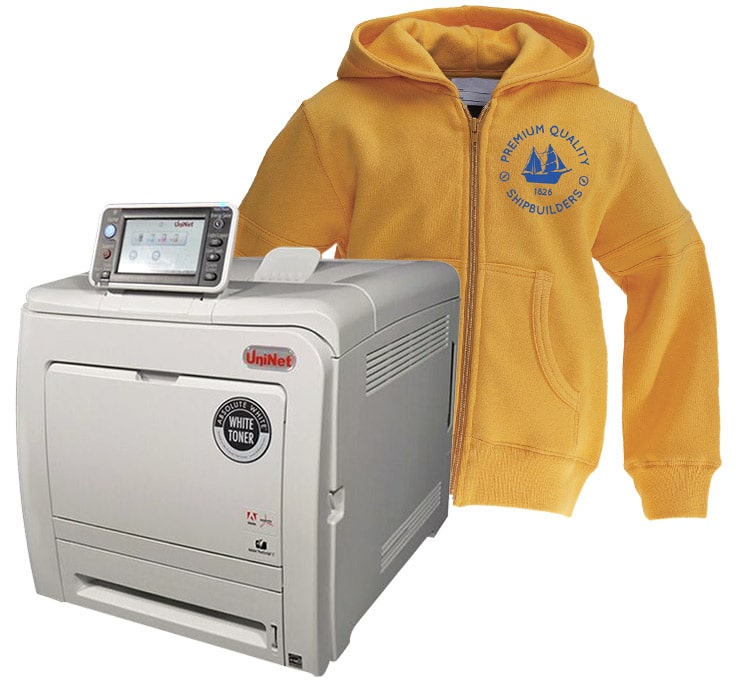 The UniNet iColor® Digital Color + White Transfer Media Printers feature full color plus white, combined with full color and true black printing! A unique and low cost digital solution for the short to mid run market.
With the most opaque white toner available, print on black, dark and clear media or garments in vibrant, colors + white. Imagine custom T-shirts, sweatshirts, hard surfaces, invitations, menus, stationary, promotional items, labels, banners, and more which include full color, true black and brilliant white! Add our option specialty toner kits to produce fluorescent colors, security documents, clear watermarking and even dye sublimation prints, all in the same printer! What's more, our exclusive iColor TransferRIP or ProRIP technology allows you print white as an overprint or underprint in one pass! UniNet has the only printers on the market that have this capability! Printing white as a background color is absolutely necessary when printing on clear or dark media. Otherwise, the color will look muddy applied to anything except white. The iColor TransferRIP and ProRIP software makes this all possible, and in one pass with perfect registration!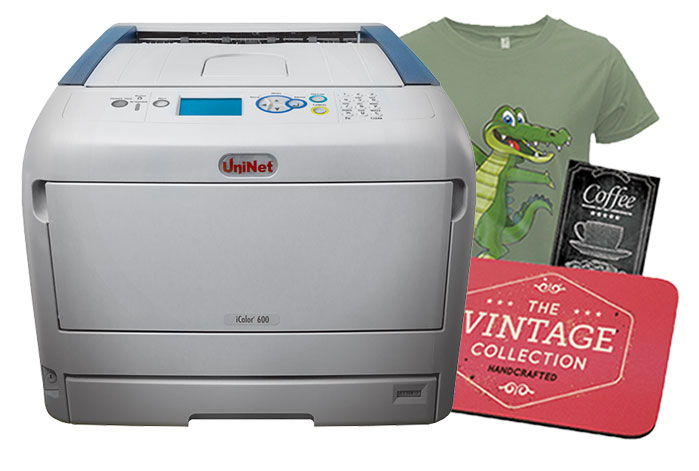 Open your own business quickly and affordably, or enhance your existing printing business! The iColor® Digital Color + White Transfer Media Printers are businesses in a box! Create unique apparel quickly and easily. Computer generated images allow for easy production of short run repeat orders and changes on the fly! For garment transfers, use our 2 step iColor Premium Transfer paper which allow for low heat transfer at 250 degrees F which won't damage delicate or synthetic fabrics. Unlike other heat transfer systems, the pressure, time and temperature is the same for the first and second press, saving time and money. It's as easy as print, press and pull!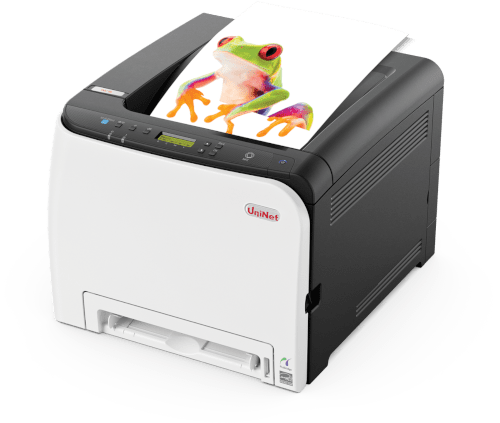 For those who are seeking a toner based dye sublimation only printer, UniNet has that too! The iColor® 350 is a unique, low cost and versatile on-demand printing solution for short to mid run dye sublimation transfer production of garments, hard surfaces, and much more! The iColor® 350 does not require special software or special transfer media! Keep costs low by printing on regular copy paper instead of expensive dye sublimation media. Suited for a production level environment, the iColor® 350 features vastly faster print speeds: 20 pages per minute vs 1 page per 2 minutes for ink (photo mode). No clogged heads resulting from non-use, toner based systems do not have this maintenance issue. Much longer expiration date on toner (ink expires within one year) and much higher page yield options.