Heat Presses Overview
Offering the Right Press for the Right Job
UNINET offers a variety of heat presses to suit your specific needs. As an Authorized Stahls, Insta and Geo Knight reseller, we can bundle your hardware purchase with the right heat press to get you up and running quickly and easily!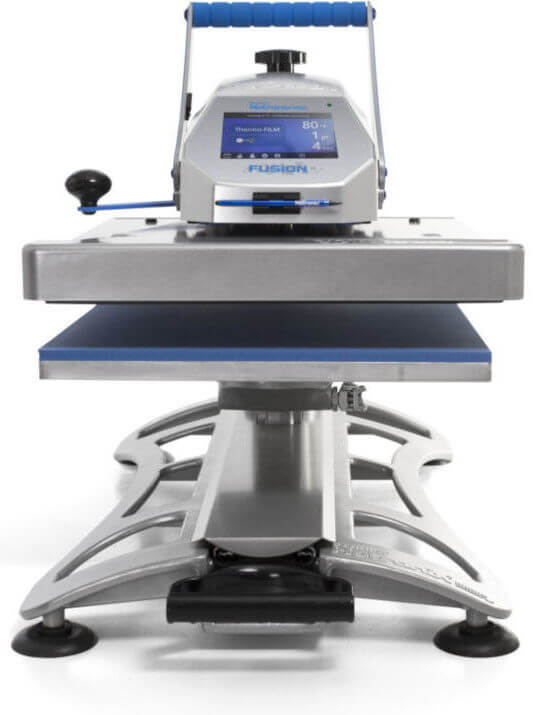 Stahls Hotronix Fusion IQ 16" x 20" Heat Press
Online access to reporting as well as customized presets for specific media applications
Self-diagnostics help with troubleshooting and maintenance
16" x 20" platen
Dual function – swing or draw motion
Easy to operate with touch screen technology
Unlimited preset profiles for a variety of applications
Threadability™ makes it easy to load garments onto the lower platen and print front, back, and sides
Quick Change lower platens available for printing smaller items, hats, shoes, etc
Multiple time settings
Auto on/off setting
Multi-level password settings
Energy-saving 4 hour sleep mode
Production cycle counter
Available in eight languages
3/4" thick non-stick coated upper platen
Set to F° or C°
Live digital time, temperature, and pressure readout.
Temperature range 32°F – 430°F
Available in 110v or 220v, and in eight languages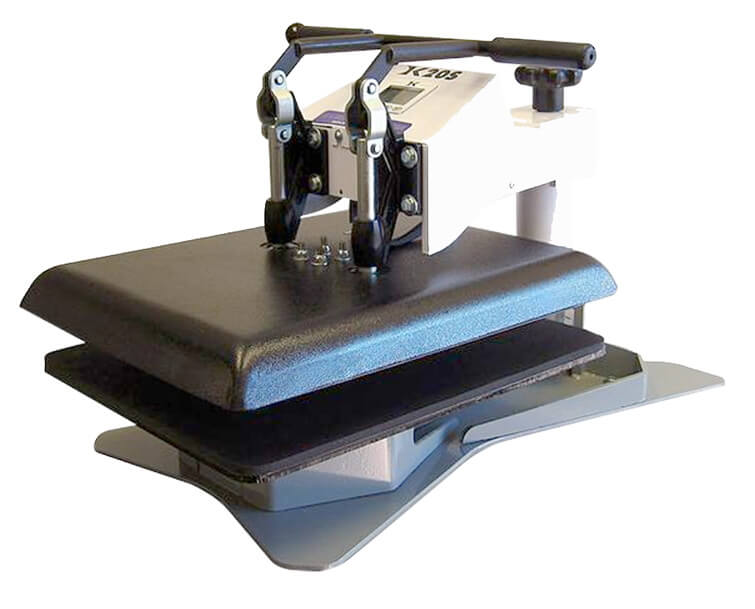 Geo Knight DK20S 16" x 20" Digital Swinger
The Digital Knight DK20S is a 16x20 swing-away heat transfer press. The DK20S combines a heavy-duty solid steel industrial grade pressing framework with accurate and easy to use electronics to provide the operator with the best possible features and equipment needed for today's various heat transfer applications.
All-Thread™ table loading design
Fully digital temperature control 32°-600°F range
Automatic digital timer & dual pre-press timer
Digital Pressure Bar Graph
70 Programmable presets
Solid steel welded framework
Instantly interchangeable & rotatable tables
SuperCoil-Microwinding™ heater technology
Accommodates materials up to 2" thick
Temperature readout accuracy +-2°F - can show °C or °F
User selectable end-of-cycle alarms
Records number of pressing cycles done
Teflon-coated 3/4" thick heat platen
Lifetime warranty on heat platen
3-year warranty on control
1 year warranty on entire press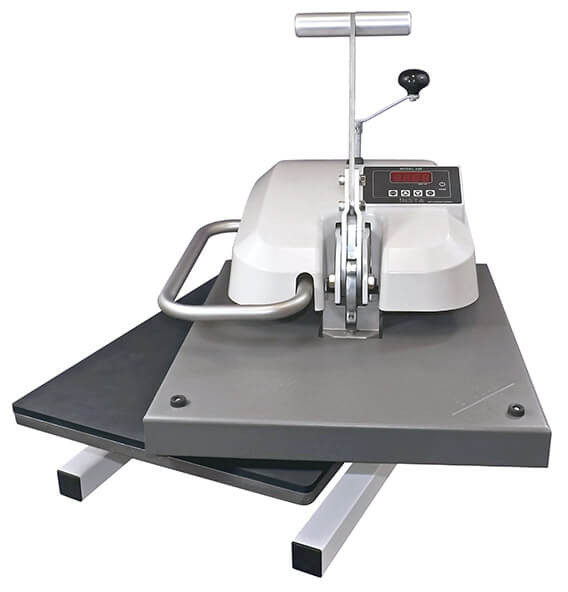 Insta Model 256 16" x 20" Heat Press
Swing away upper platen
Lightweight H-frame construction
Quick-Change™ mechanism for new accessory platen (6"x 6", 6"x 9", 6"x16", 10"x 16", and Shoe Platen)
Fully Dressable allowing for easy loading of garments with complete clearance under the lower platen
Integrated digital controller which features controls for time, temperature (F° or C°), and cycle counter
Ergonomic wrap-around stainless steel handle
Central pressure source for even and heavy-duty distribution of pressure
Protective heat shroud
Available in 110v or 220v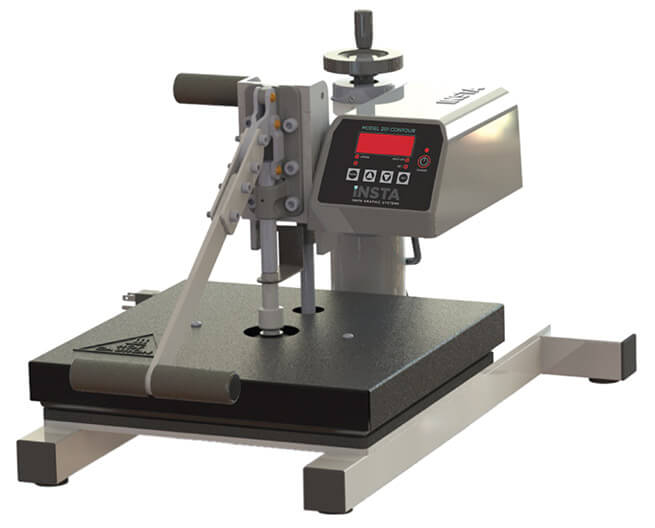 Insta Model 201 13" x 13" Heat Press
Swing away upper platen
Pressure adjustment crank
Integrated digital controller which features controls for time, temperature (F° or C°) and auto-off
Ergonomic wrap-around stainless steel handle
Central pressure source for even and heavy-duty distribution of pressure
Protective heat shroud
Available in 110v or 220v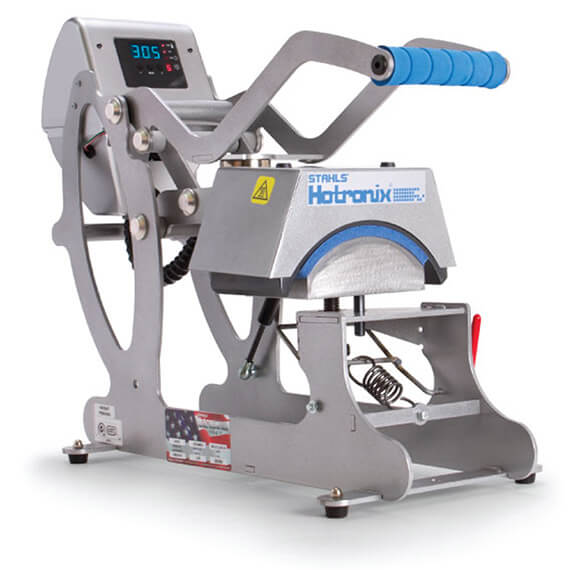 Stahls Hotronix Cap Heat Press
Designed to decorate caps of all sizes
Auto open feature allows you to multi-task without over-application
Digital time, temperature, and pressure readouts
Compact size allows for easy portability
4 different platens are available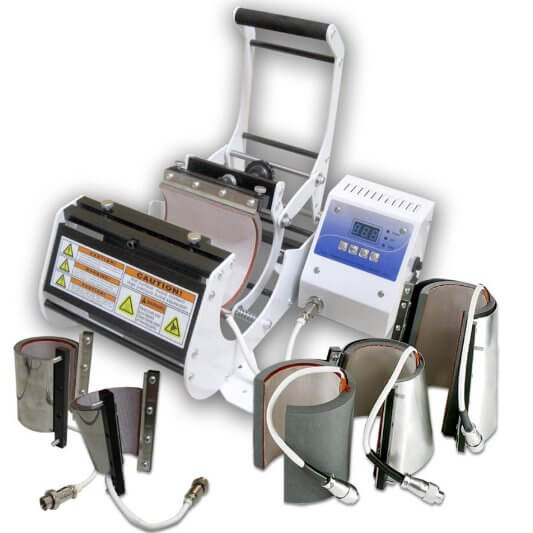 IColor Mug Press
Multifunction mug press featuring easy operation and no wrinkles because of the enhanced press mechanism
Fits a variety of heating pad attachments to suit any situation - Comes with 11-15oz standard coffee mug attachment
12oz tapered latte, 17oz tapered latte and shot glass attachments pictured are available as a separate purchase
Universal dual digital display, updated adjustment screw for wrenchless adjustments, and improved anti-skid pads for production stability
Tangential direction
Even pressure distribution
Automatic digital timer