IColor™ LF700+ Overview
The most innovative digital label finishing technology available!
Label production just got simpler…
The UNINET® IColor™ LF700+ is a redesigned, fully integrated label finishing system, developed to deliver optimum performance and value. It is a must-have for established label printers and end users wishing to create their own on demand, in-house labels.
By printing on continuous rolls, and then using the IColor™ 700+, you can create unlimited shapes and cutlines for complete customization.
The IColor™ 700+ serves the purposes of five machines in one:
Lamination
Contour cutting
Matrix removal
Perforating
Slitting
All this, in a single compact footprint. Loading and unloading media is simple and easy with this user friendly device.
UNINET® IColor™ LF700+ Finisher keeps you competitive!
The IColor™ LF700+ combines the latest tracking technology with robust, industry standard engineering. Complete your product label production digitally and on demand quickly and easily.
Enhance your label quality for lasting durability and full protection. Ideal for beverage, food, cosmetics and much more.
The easy to use control panel navigates effortlessly through menus and functions. Impressive speeds and precision registration allows the user to produce short run labels with reliability and at the lowest cost.
Endless bespoke cut patterns – Complete customization – you create the cutlines.
Impressive speeds and precision registration allows for the production of finished labels at very low cost.
A perfect complement to the IColor™ 700 Digital Label Press
Features and Advantages
Easy to load system assists with the trouble-free application of laminates.
Knife slitting with easy adjustability, together with multiple slit rewind.
Compatible with all roll to roll narrow web label printers.
Accommodates paper and synthetics in various weights.
Knife pressure can be adjusted in 1 gram increments from the panel.
The waste matrix rewind features webbing, allowing for the quick removal of the waste without the worry of replacing or cleaning a new core.
Perforation features allows for the production of tear off labels.
Machine Dimensions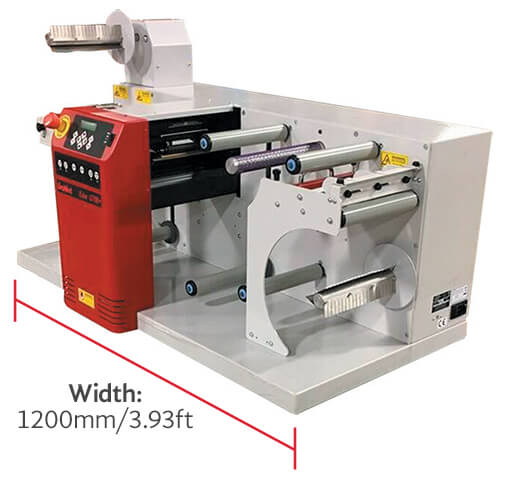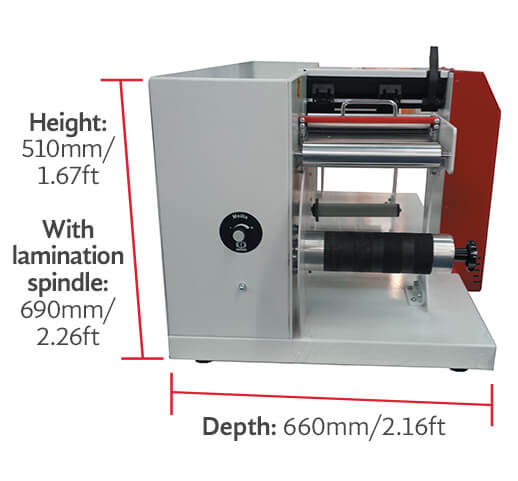 Machine Overview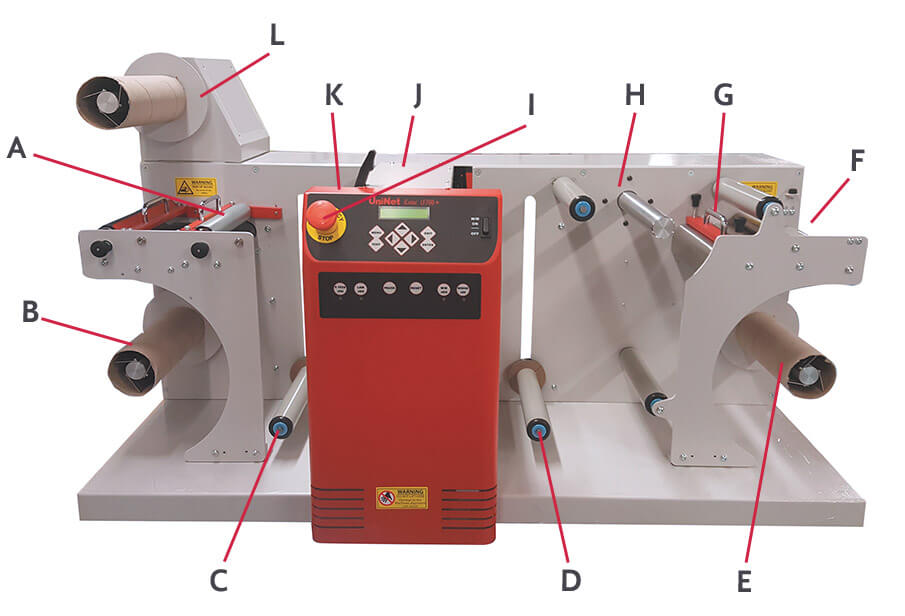 A. Media Feed Nip Roller
B. Media Unwind
C. Media Feed Dancer Bar
D. Media Rewind Dancer Bar
E. Media Rewind
F. Slitter Module
G. Brake Bar
H. Waste Matrix Rewind
I. Emergency Stop
J. Cutter Assembly
K. Control Panel
L. Lamination Unwind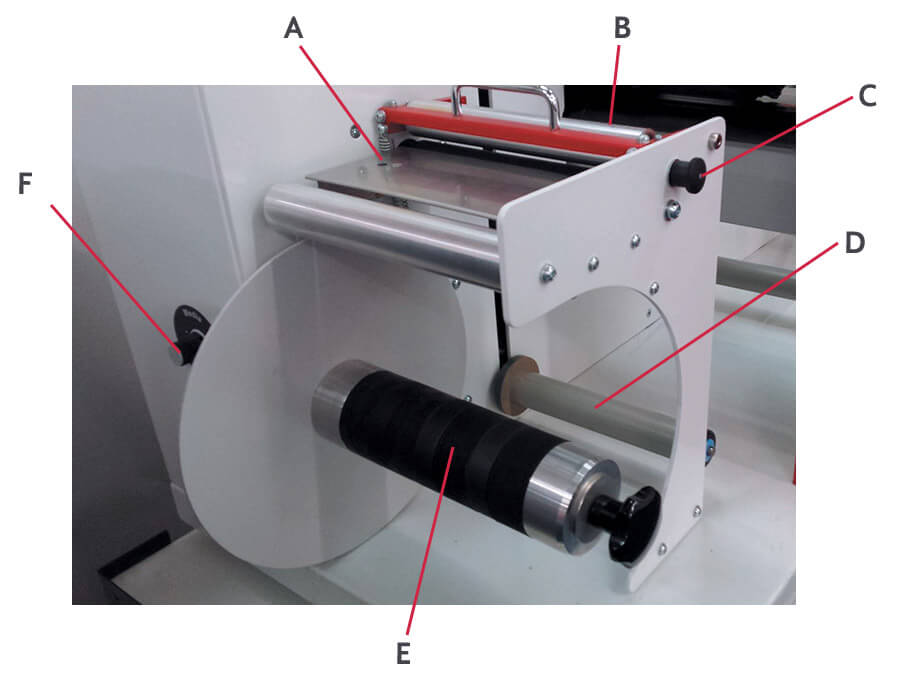 A. Media Sensor
B. Media Feed Nip Roller
C. Nip Roller Latch
D. Media Unwind Dancer Bar
E. Media Unwind Mandrel
F. Media Brake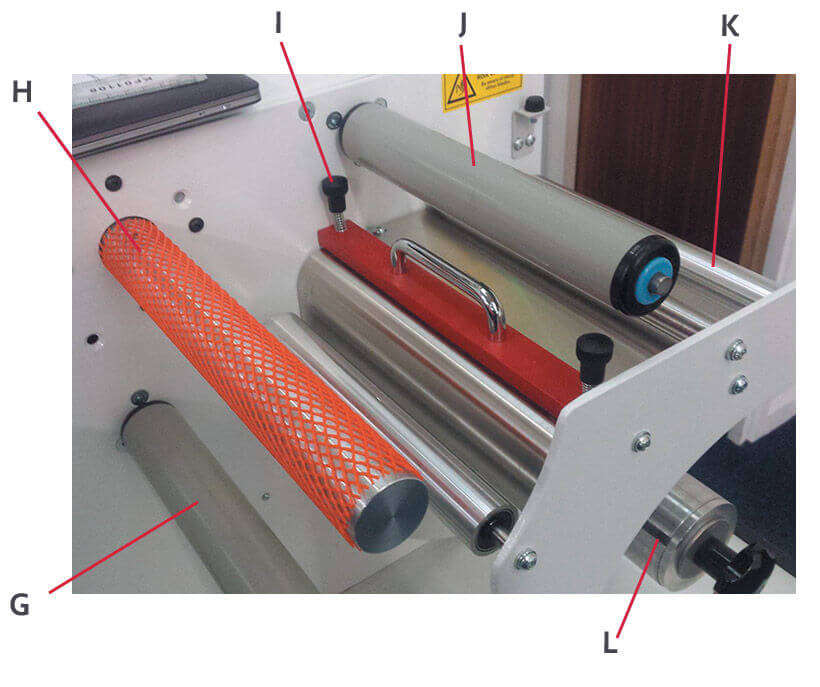 G. Static Bar
H. Waste Rewind
I. Brake Bar
J. Static Bar
K. Slitter Knife Module
L. Media Rewind Mandrel
Product specifications
Media Width:

3.9"- 8.6" (100-220mm)

Cut Speed:

Up to 1200 mm axial (4.6m / 15ft per minute) depending on graphic

Cut Force:

0 – 400 grams in 1 gram steps

Cut Type:

Drag knife and tangential emulation

Cut To Registration:

Single point registration mark

Cut Ability:

Both printed and unprinted media

Cut Label Size:

.78"- 12.2" (20-311mm)

Input Roll Diameter:

Up to 11.8" (300mm)

Roll core size:

3" (76mm)

Roll slitting:

3 Blade slitting, and re-wind system

Double Dancer Bars:

For paper feed with positional intelligence

Lamination:

Unsupported laminate roll (supported rewind not available)

Waste Matrix:

Removal and rewind

Interface and software:

WinPlot (Windows OS) cut software, cutter control parameter software. Plug-ins for Corel Draw and Adobe Illustrator.

Power Supply:

Single Phase 110-240vac, 50/60Hz, +/- 2%