iColor® 300 Overview
A unique and a low-cost digital technology for short-run apparel, textiles and media transfer print production...
Print and Transfer onto:

Natural and synthetic fabrics

Dark and light fabrics

Beer, wine and juice bottles

White, colored or clear labels

Leather

Dark and light paper stock
Create unique items - The possibilities are endless!

Tshirts and sweatshirts

Aprons

Dark restaurant menus with white print

Corporate logo shirts

Mouse pads

Sports apparel

Jackets

Tote bags

Signs with colored, white or fluorescent print
UniNet presents the revolutionary iColor® 300 Digital Color + White Transfer Media Printer Printer Series featuring full color, double white, and florescent toners combined with TRUE black printing. A unique and low cost digital technology for short run apparel, garments, and other media.
The iColor® 300 Digital Color + White Transfer Media Printer Printer feature LED technology and low temperature fusing. This allows for the transfer of images onto delicate synthetics without damage to the fabric when used with the iColor premium transfer paper.
Lowest cost, toner-based heat transfer solution for producing white prints with conventional CMYK, florescent colors, and TRUE black for transfer to both dark and light materials using iColor premium transfer paper.
The iColor® 300 Series is available in four models:
Florescent Color With True Black Printing

Combined with true black printing, the iColor™ 300FC printer creates vivid florescent colors that glow under black (UV) light. Without requiring special software or drivers, simply print any standard four-color design for a unique florescent image.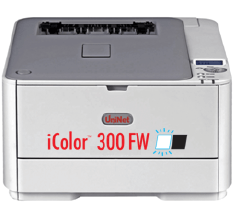 Combine 2 or more printers to create full color graphics with white and fluorescent accents.
Low temperature transfers at an industry low 250° F. Won't damage delicate fabrics!
Save time, money, and space. No need to purchase a second heat press when using the iColor® premium transfer paper system. The first and second press share the same temperature, pressure and press duration!
First to market fluorescent colors and double white for unique glow in the dark effects using black (UV) light.
Best washability and durability! Tested to over 100 wash cycles unlike other technologies that fade or peel after just a few washes.
No need to outsource small jobs or turn away business!
Eliminate setup charges.
Computer generated images allow for easy production of short run repeat orders and changes on the fly!
Print complex designs in full color with photographic quality easily and accurately in the highest resolution possible.
Enhance and complement screen printing designs with personalized details, eliminating the need to stock individual letters, numbers, symbols or logos.
Reduce the time needed to manually layout projects by printing the complete design on one page.
Simple, clean weedless iColor® premium transfer paper.
PC and Mac compatible.
Printing is as easy as Print, Press and Pull!