UniNet Blog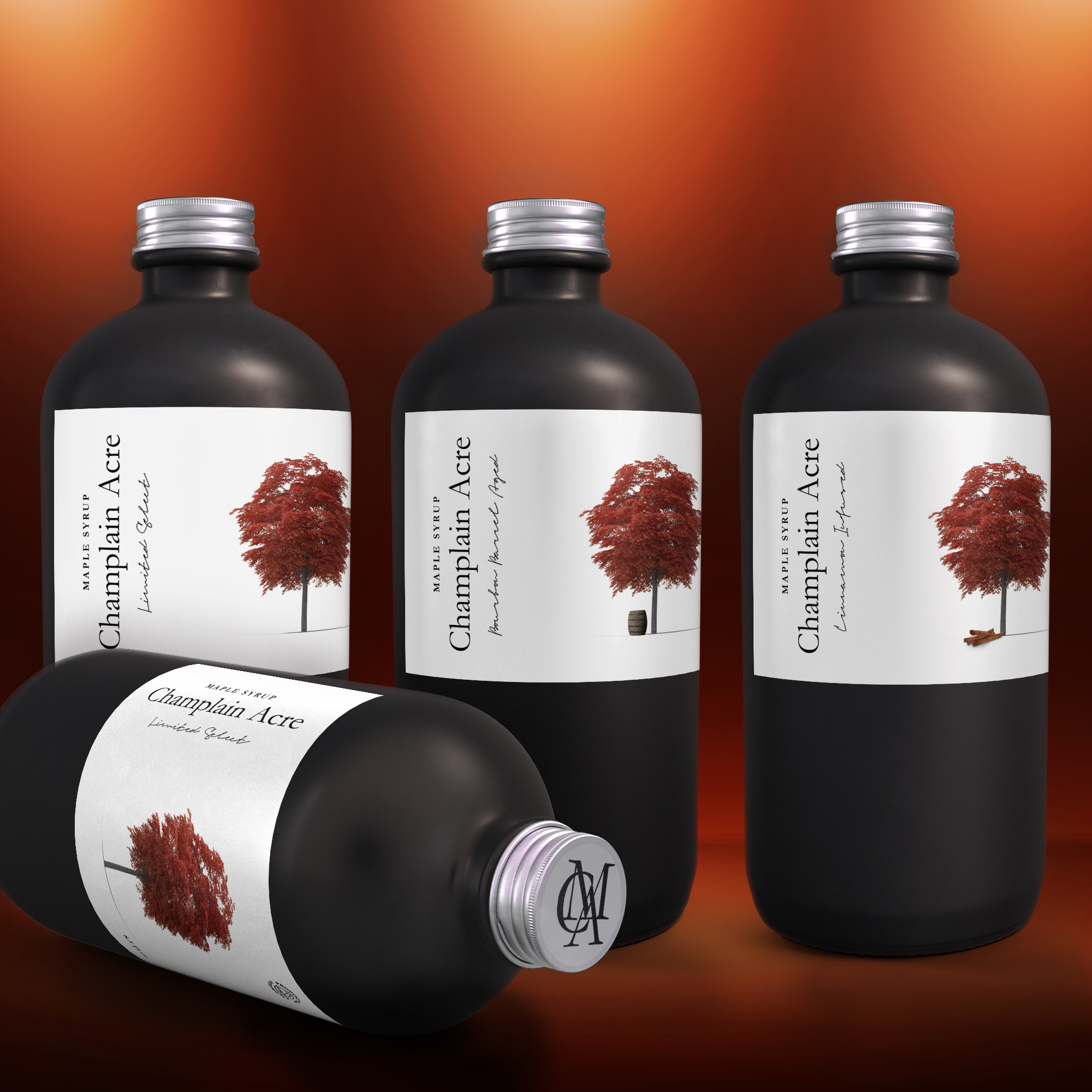 |

FEATURE NEWS, LABEL NEWS
THE MAKING OF A BRAND
CHAMPLAIN ACRE MAPLE SYRUP
2019 has turned out to be a short but successful maple sugaring season with Vermont leading in U.S. maple production with over 2 million gallons of syrup this season, a 7% increase from 2018. Traditionally, sugaring season starts in late February to early March, however in recent years sap collection started at the beginning of January.
Vermont is the top maple syrup producer in the U.S. with nearly half the national total and more than twice the next largest state-New York. With Canada as the industry leader producing 71% of the global supply in 2017, the U.S. maple production has been on a steady growth path in recent years except for a small slump in 2018.
Perfect timing for Champlain Acre Maple Syrup to enter the sugaring season. Taking maple syrup to the next level, Champlain Acre has crafted an authentic, high-quality, artisanal product in an assortment of limited-edition flavors. Targeting the upscale, urban market Champlain Acre Bourbon and Cinnamon infused maple syrup will add a new spin on breakfast! With a non-traditional approach to branding, the company's label had to reflect the refinement and richness of the flavors.
For this project, the UniNet iColor® 700 LED Toner-Based Digital Label Press has been the perfect partner for producing Champlain Acre Maple Syrup limited-edition labels. With continuous roll-to-roll printing in full-color and optional white combined with white underprint capabilities in a single pass, the iColor® 700 is designed for on-demand, short-run label production.

The iColor® 700's unique low fuser temperature technology supports printing on a broad range of specialty label substrates like PET, PP, BOPP, vinyl, and more. This advanced technology was instrumental in fulfilling Champlain Acre Maple Syrup's label requirements of sharp details, image clarity, and color richness of the true-to-life maple tree image for a stunning digital label production result.
To enhance the company's gourmet flavor experience, UniNet printed the bottle label on the certified Gloss White PET label stock and the transparent cap label on the Gloss Clear PET for a polished, luxurious sensory experience to maximize shelf impact. By complementing the brand elegance and sophistication with the added benefit of exceptional label performance and high resistance, UniNet created velvety-finished labels to match the Champlain Acre Maple Syrup smooth flavors.
From Vermont to the UniNet iColor® family, the making of the Champlain Acre Maple Syrup labels was a true labor of love. Bringing this brand to life was a journey that began during the sugaring season with the desire to elevate breakfast and an authentic flavor. UniNet selected the best label press and label stock to fit the brand promise of sophisticated, gourmet taste. UniNet digital printing technologies helped another business achieve success!